Case Study | Define Aesthetics
Define Aesthetics, Obesity Clinic in Pune, India. Radon Media Improved Decent Amount of Organic Leads & Keywords Ranking through SEO.

Define Aesthetics is a first clinic of its kind in Asia Pacific which uses superior and proven French HIFU-2 + LIPOLASER combination for body fat reduction. At Define Aesthetics every patient is assessed carefully for BMI, fat %, visceral fat, associated co-morbidities like Metabolic Syndrome, DM, HTN & co-existent conditions like Hypothyroidism & other hormonal abnormalities with help of team of doctors & nutritionist. A multidisciplinary approach is followed to help patients which consists of dietary & lifestyle modification, treatment of co-existent hormonal abnormalities if required & effective use of modern non- invasive technologies like HIFU, Ion Magnum, Accoustic wave technology & Radiofrequency. With combination of these 800 obese individuals have been treated to help them satisfactorily since year 2010.
With SEO Campaign, Define Aesthetics is reaching to their genuine consumers online. Organic leads increased by 125%.
Above 10 local keywords rankings in 1st page.
Above 25 organic keywords rankings in 1st page.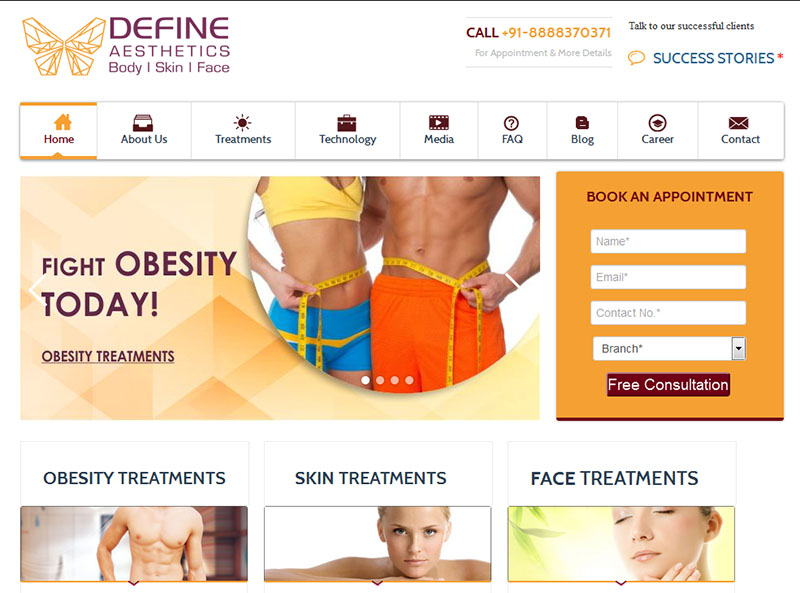 Key Industry
SEO (Search Engine Optimization)
This SEO case study shows the creative approaches we've undertaken to increase attention to improve the website traffic, leads and keyword ranking of "Define Aesthetics".
The PROBLEMS
The "Define Aesthetics" old website had several technical issues and no content strategy for consistently building traffic and keyword ranking. The site had duplicate content, meta tags issues & a poor interface. The site architecture was likely turning visitors off instead of converting them. There was no proper navigation structure and call to action buttons.
Website keywords had not performed well due to the lack of on-page and off-page optimization.
The ACTIONS
We began by performing an in-depth website analysis to identify the optimization opportunities. These included changes to "Define Aesthetics" website architecture, repairing broken links, URL structure, meta tags optimization, internal linking, fixing duplicate content, local & organization schema markup and many important technical issues.
We developed a strategy for local & organic results. We worked to gain local citations & quality backlinks. We chalked out a content promotion strategy to consistently drive more organic & local search traffic as well as leads to the website.
In parallel with ongoing technical onpage SEO efforts, we executed on a comprehensive onpage optimization strategy. This included website content optimization and keyword density. We developed creatives & quality content to promote on the relevant external sites.
The RESULTS
We continuously kept a track of the website traffic & ranking. After 5 months, the client's site noticed a major improvement in all areas of performance including the following:
– Improved long tail keywords ranking in 2 months (Local & Organic)
– Improved short tail keywords ranking in 5 months (Local & Organic)
– Increased site engagement and conversions in 2 months
– Increased 26 genuine referral leads in 6 months
– Increased conversion rate by 105% in 6 months
– Organic bounce rate decreased by 22% in 6 months
– Increased genuine organic leads by 125% in 6 months
– Increased genuine 38 local phone calls in 3 months
The "Define Aesthetics" continues to work with us & obtain the long-term benefits of a successful SEO campaign.
LET'S DISCUSS YOUR PROJECT!
Have a project you're interested in discussing with us?
We'd love to hear from you!