Case Study | RichFeel
RichFeel Partners with Radon Media for Conversion Rate Optimization. Improves Overall Conversion Rate by 103%

A veteran in Hair and scalp care treatment domain, Rich Feel has 30 years of experience to fall back on. Spread across the country , Rich Feel has been a hair and scalp care partner for Femina Miss India pageant for decades now. They have celebrity clients that they cater to. With the expanding scope of hair and scalp care domain, Rich feel has now also ventured into the wellness market with Spa therapy with their Detox spa service.
Rich Feel partnered with Radon media, to urgently address its stagnant conversion rate. With its goal to find valid answers to what might be causing this bottleneck, Rich feel needed analytics to help them out. To understand the problems with Rich Feel conversion, Radon used tools like Google analytics and Google Tag Manager, to gather data. Radon also worked on a hypothesis, which defined parameters which were the most likely reasons for this hiccup faced by Rich Feel.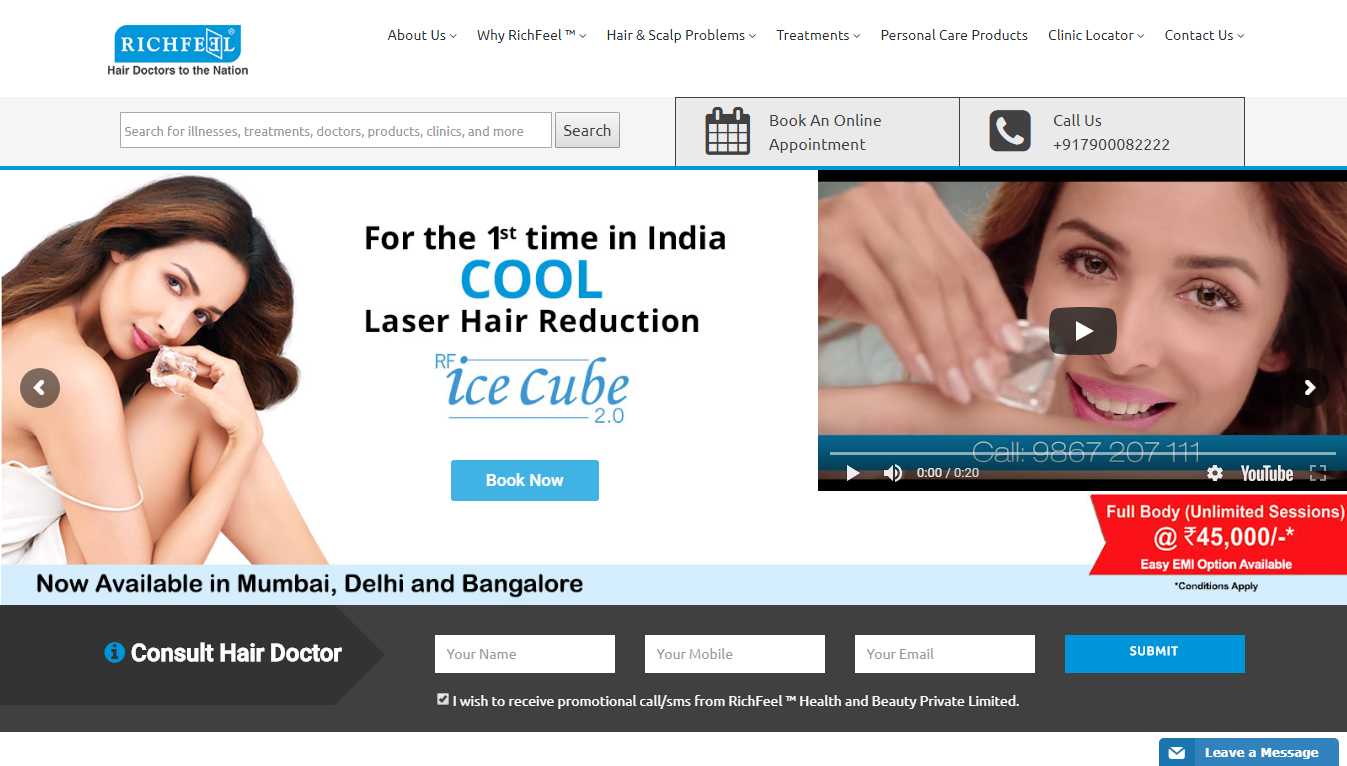 Key Activities
Google Optimize
Google Analytics
Google Tag Manager
HotJar
The Goals
Address the pain point of stagnant conversion rates.
Resolve the landing page loading time.
Retain visitor attention span on the page.
The Approach
Pre analysis (naked eye survey).
Heat Map to understand visitor behavior.
Worked on the hypothesis framework to understand which elements might be causing the bottleneck.
Development of the landing page as per the inferences drawn off the analysis.
A/B Test using Google Tag Manager and Google optimize which did a comparative study on how conversions occurred on the original landing page vs the new page made by Radon.
A trial test for 36 days which gave us the final verdict on the winning page.
The Results
A definite spike on the conversion rates from day one on the new landing page.
The rate of conversion remained at 0.14% for the old page through the 36 day trial period.
The new landing page, over the same duration, recorded a Conversion Rate of 5.19%.
In layman's language, of the total conversions contributed to by both the pages, the Old Landing Page contributed to 3% of the conversions. The rest 97% was brought in by the New Landing Page created by Radon.
LET'S DISCUSS YOUR PROJECT!
Have a project you're interested in discussing with us?
We'd love to hear from you!